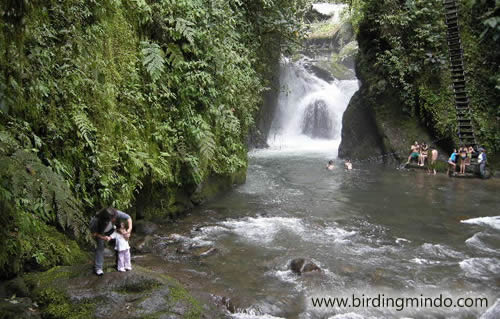 The cloud forest is crossed by the crystal clear waters of the Nambillo River that invites you to receive a refreshing bath. The waterfall slides down more than 15 meters.
You can perform 4 m. and 12 m. jumps, for those who like high risk sports.
This waterfall is formed by a rapid in the Nambilllo River. It is a popular natural spa. The pool area of the waterfall is about ​​250 square meters, although the water channel itselve is just 5 meters wide.
The waterfall is located 8 kilometers from Armonia Lodge. You can either walk (2 hours one way) or take a taxi. The taxi takes you to the upper part, then descend for 20 minutes on foot. Ask for a map at reception.
Approximate duration: 3 to 4 hours
Costs per person: $ 3.00 dollars
Location: 8 kilometers from Armonia Lodge