Birdwatching at GALLO DE LA PEÑA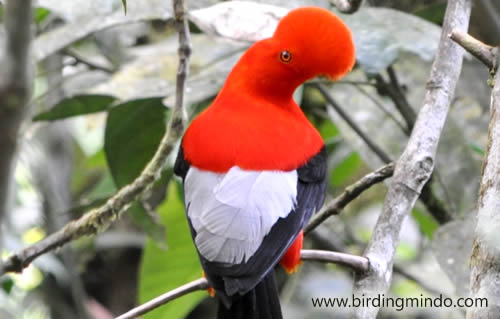 The Gallo de la Peña, is an emblematic bird from the Mindo area. It is bright red, with black wings and a little white on the back, and has an exotic pompous crest. The males are grouped exactly at 6:00 AM to dance, squawk, simulate fights and sometimes to fight for real to maintain their territory and impress the occasional females that fly inside the Lek.
On this tour you will have the chance to observe this beautiful bird and combine it with a tour on the famous San Lorenzo route, one of the places with the greatest diversity of species where you can see toucans, colorful tangaras, flytraps, trogons and much more!
This activity includes guidance, all the necessary equipment; telescope, binoculars, pointer and field guide, entrance fee to the reservation, roundtrip taxi and breakfast to go.
Departure time: 5:20 a.m.
Approximate duration: 4-5 hours
Location: 30 km from Armonía Lodge
Costs 1 pax: $ 100.00 dollars
Costs 2 pax: $ 115.00 dollars
Costs 3 pax: $ 135.00 dollars